Eccentric Exercises For Tennis Elbow?
There's a lot of talk these days about the potential benefits of 'Eccentric Exercise' when it comes to Tennis Elbow treatment and rehabilitation.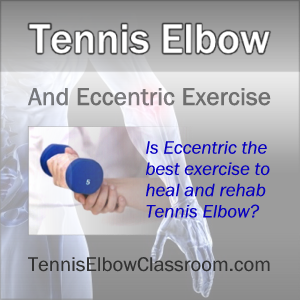 But can one type of muscle activity / contraction be that superior to another?…
Or is the eccentric approach just another exercise fad that's gotten a little too much buzz lately?
First of all, don't let the lingo throw you. It's pretty straightforward:
An 'Eccentric' contraction is simply the controlled lengthening of a muscle against resistance.
(Visualize the lowering of a dumbbell weight in a Biceps curl, for instance.)
Based on several medical studies, there's definitely evidence to support the idea that eccentric muscle contractions may at times be preferable to concentric ones when it comes to tendon rehabilitation.
A lot of the buzz and attention seems to revolve around one particular study, though – A small, but apparently successful study…
To read the full article visit: Is Eccentric Exercise the best form of rehab?
Treatment in Marin / San Francisco
If you're in the Bay Area, please see my page about how I treat Tennis Elbow:
Tennis Elbow therapy at Body In Balance in Corte Madera
You get 100% hands-on Neuromuscular Therapy to help your muscles and tendons heal and recover naturally without dangerous drugs or invasive measures.
Tennis Elbow Classroom – YouTube  |  Follow me on G+  |  Tennis Elbow Exercise posts – ScoopIt