"Why Is My Tennis Elbow Taking So Long To Heal?"
It's one of the most common Tennis Elbow treatment-oriented questions I'm asked – both online and in my practice.
Why is it that some Tennis Elbow injuries take only weeks to recover from – while others take months or even years? And is there a way to avoid this and speed your recovery?
Here's the full article with podcast on the recovery time for Tennis Elbow
The simple fact is, Tennis Elbow is a tendon injury and tendons heal slowly, by nature.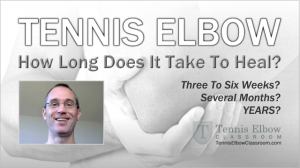 I know it can be a challenging thing to face and accept when you're in chronic pain, but that's the truth.
Healing a tendon is not like healing muscle, skin or bone – which have rich blood supplies, which means faster healing.
That's not to say you can't recover a lot more quickly with the right treatment approach, though – You certainly can.
Treatment in Marin / San Francisco
If you're in the Bay Area, please see my page about how I treat Tennis Elbow:
Tennis Elbow therapy at Body In Balance in Corte Madera
You get 100% hands-on Neuromuscular Therapy to help your muscles and tendons heal and recover naturally without dangerous drugs or invasive measures.
Tennis Elbow Classroom – YouTube  |  My Tumbler Blog  |  Tennis Elbow Treatment posts on WP.com